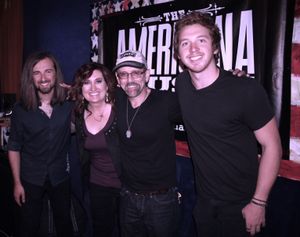 Berklee Americana Showcase at The Family Wash with my Band
Michael Boris, Me, Bill D, and Nick Arbuckle
Nashville is now officially in recovery mode from the 17th Annual AmericanaFest extravaganza. The event brings thousands of fans and artists to town to celebrate Americana music in all it's fabulous forms, from country to roots, to bluegrass, folk and blues/soul. There were more than 200 live performances in 14 venues around town, and it was a great conference on many, many levels!
Between the conference portion (workshops and networking) and the showcases, the festival really does hold something for everyone. Here are a few of my personal highlights, in no particular order...
WMOT's viewing party
was great at The Family Wash for those of us who didn't make the live awards show. They served up some nice appetizers there, Katie, Abbey and Val are great, and can I just say that I'm personally thrilled that we now have a great Americana station locally in WMOT? Booyah!
There were some fantastic workshops too.
Where Country and Americana Collide
 was a lively discussion hosted by Holly Gleason with panel experts Jim Lauderdale, Frank Liddell, Jeremy Tepper, Leslie Fram, Rodney Crowell (pic with me below!), and Scott Robinson. I was taking notes as fast as I could because there were so many great insights...here are a few of the quotes:
"Americana music is now king of the song" (comparing it to country)- Frank Liddell
"Country music to most people is defined by what's on mainstream radio." -Jim Lauderdale
"Jim's music was the most retro and futuristic music I'd ever heard."- Frank on being Jim's song plugger early on in Nashville
"I set out to entertain myself." -Rodney Crowell on what he was looking for in songs for his records 
"Country is music for the working class...the music was designed to speak to my people, the rural farmers. Hank Williams came along and made it rock." -Rodney Crowell
"Americana isn't a single format like country---it's about albums, a collection of work at radio." -Scott Robinson
Another speaker that offered some wisdom on our role as artists and creators was
T Bone Burnett
. Check out his
keynote address here
for some really interesting insights.
Can i just say that I loved that
Pandora
classes? The AMP one was amazing---aritsts can now record messages to their fans before songs are played (Hey my new album's out and I hope you like this new song!") and actually see who is listening to their music the platform. Plus, they are just really nice folks, and how often can you learn about using Pandora from, well, Pandora?
Another highlight was the
Get Heard: How Streaming Helps Artists
music panel moderated by Nashville's own Charles Alexander of Streaming Promotions. A lot of great information and Nate Yetton summarized the topic by saying "Remain patient and curious about the digital space."
All of the
Americana UK
-hosted events were fantastic, from the showcases at vibey Alley Taps to the panel on Americana in the UK--and of course the Backyard BBQ! I really appreciate all the work by Stevie, Jamie, Brendan, Ian, Howard and the rest of the team to make all of it look easy. The very best investment I've made as an artist that tours in the UK is to
join
. Such a fantastic community across the pond! Berklee's All Day Breakfast at AmericanaFest
was packed with fans, alumni, music and well, pancakes. Great job by Vanessa and Fritz for putting that on with such panache!
Finally, one of my biggest highlights was a fantastic show at
City Winery Saturday night
featuring
Shawn Mullins and Martin Sexton
.
Where do I start with these two?
Shawn is a fantastic songwriter who absolutely can 'spin a yarn.' He took the stage with an acoustic guitar, a piano/accordion player and a bass/electrified ukulele player. And they all three sang---and it was MUSICAL in the purest sense of the word. I loved it..every lyric, lick and red-clay covered note. He came across on stage like a real person who seemed to actually enjoy what he does---a true troubadour. His new tune, "
My Stupid Heart
" is a soulful and catchy mid-tempo toe-tapper. He has great commercial writing sensibilities but there's not one ounce of sell out in my book. Brilliant.
I hadn't seen Martin Sexton live in about 8 years and I was reminded again how much I love his music. He is a gifted singer with an incredible range but it doesn't end there. He beat-boxes, he can light the guitar up, and most of all he is a performer. If there was a thought bubble above his head I think it would say "I'm here for YOU. This is my gift for YOU." You feel like you're in the concert with him.
And, nothing stops him from being a great performer. He took the stage with a guitar and it sounded like a band. At one point the guitar sound died, so he just sang and beat boxed and clapped percussion to end the song. At another point, he lost the vocal mic, so he stepped to the side of the stage and sang louder. It was like watching a pilot in yearly simulation training---no matter the obstacle, he handled it without a flinch. It wasn't just a great set, it was a masterclass on performing. And, not only do you love his jaw-dropping talent and skill, but you walk away really liking him as a person. A rare and beautiful thing....so I'll let him sing us out from here...
Nobody can bring it home like @martinsexton82. Thank you for the show at @AmericanaFest, you are inspiring! pic.twitter.com/ZYoEwkKnQu

— Shantell Ogden (@shansmusic) September 27, 2016