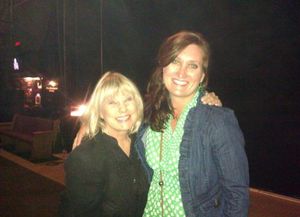 Jan and I backstage at the Grand Ole Opry  
Nashville didn't see Jan Buckingham coming…
Born and raised in St. Louis, Missouri, Jan discovered her knack for writing when she wrote her first song, titled "Oh Sad Little Blue Bird" when she was eight years old. Her next songs came in her early twenties shortly after her first divorce.
"Nothing like a little pain to draw the creativity out of you," said Jan. "I knew I had found my passion."
Jan started performing in local clubs in Columbia, Missouri after she graduated from college during the summers when she wasn't teaching school. It was during this time that she entered the American Song Festival (a contest she won several years later), and read on the entry form that Nashville was the 'place to be' for songwriters.
She knew she needed to make the move.
"I came to Music City in the early eighties with a guitar, a grocery bag full of my songs on cassette and a big ole dream," said Jan.
Jan networked her songs around town, with her signature fearless zeal, and within months she was going in to Nashville to write every day.
"It might have been in a vault at the Sound Stage Recording Studio, or in a closet at Tree Publishing, sandwiched in between Buddy Killen's and Donna Hilley's offices, but I went in to write every day," said Jan. "I would also go out into the studio at the Sound Stage to play the grand piano in between sessions, until the players came back from lunch."
Jan got to know a lot of the players and executives in town through her daily writing efforts.
"They might have thought I was a little crazy, but I didn't care," Jan recalls with a smile. "I had a passion for writing they could see and they were all pretty nice to me. Being a little busty blonde probably helped a bit too."
Despite her work ethic and talent, it wasn't always easy for Jan.
"Back then, no one wanted to write with a girl, and there weren't many girls on the Row," Jan remembers.  "But one day I met Wood Newton, who had just signed a publishing deal with House of Gold and he said he'd write with me."
During that first session they wrote a song that would later become a hit, titled "Love Have Mercy."
Jan knew they had something.  She believed in it so much, she drove in early one morning and waited outside of Bob Montgomery's office on Music Row (he was then the head of House of Gold) for him to come into work. When Bob arrived, Jan jumped up and handed him a cassette of "Love Have Mercy" and said, "Bob, here's money in the bank."
Bob chuckled, but he did listen to the song. He ended up bumping another tune on a Janie Frickie album to record it. "Love Have Mercy" became both Jan and Wood's first major artist cut. 

After that, Jan signed with House of Gold, and later with Warner/Chappell, getting cut after cut for countless artists from Whitney Houston to Pam Tillis, George Jones, Tammy Wynette, Brian White and The Osmonds to Air Supply and Melissa Manchester (click here for a full list).

While continuing to write, Jan moved to LA in 1990 where she worked as an actress in TV appearing in shows like Frasier and Dr. Quinn, Medicine Woman and films like "Sgt. Bilko". It was during this time that Jan penned songs featured in the movie "My Cousin Vinny," "Hangin' With The Homeboys," "The Thing Called Love," and many other feature films.

Jan also wrote the theme song to Hollywood Wives.

"I had just read an excerpt of Jackie Collin's book "Hollywood Wives" in Cosmopolitan Magazine while on a flight to Los Angeles," Jan recalls. "It was such a sleazy piece of grease that I couldn't put it down and I knew someone would buy the rights."

As it turned out, Aaron Spelling was going to produce it as a TV series. Jan finished the lyric on the plane and wrote the music to Hollywood Wives with Jeff Silber in Nashville.

When Jan had a demo of "Hollywood Wives," she cornered Chuck Kaye, the head of publishing at Warner/Chappell on Sunset.

"I dragged him into his office to listen to the song," said Jan. "Chuck passed me off to George Guim, who had just come to work for Warner/Chappell that day. I got Val Knust, greatest secretary in the world, to type up a letter that I dictated to her and then had George sign it. Val then got that letter and my song to Aaron Spelling that afternoon by messenger. I was blessed with some angels around me."

The letter she dictated to said: 'Dear Mr. Spelling, One of our top writers has just completed a song that we feel captures the essence of Hollywood Wives. Sincerely, George Guim.'

"I look back and have to laugh at my passion and what I'll politely call gumption," said Jan. "The next morning we got word that they were going to use my song as the theme song for the Hollywood Wives Mini Series. And it only happened because I didn't know that you couldn't do things like that. Sometimes it pays to be naïve."

It's that kind of tenacity in business, along with a rare creative gift and big heart, that makes Jan a successful songwriter with many hits to come.

Visit www.janbuckingham.com or www.reverbnation.com/janbuckingham to hear more.