Brian Kolb was 15 years old when he and his brother Dan started writing their first song together on a $200 pawnshop guitar. While a few years have rolled by, one thing hasn't changed; he's still cranking out songs on that same old six string.  
"I love this guitar," Kolb says. "The sound of this old ax has helped me create my voice as a writer." 
After a couple years of fumbling through bar chords and scratching out what he calls "the songs no one will ever hear" Brian joined a local band and started playing the bar scene in his hometown, Evansville, Indiana. 
"It hit me like a freight train one day while I was flipping through a copy of
Mix Magazine
" he recalls. "I am supposed to make music! Two weeks before my sophomore year at Murray State I made the decision that changed my life forever, and I've never looked back." 
Then Brian took his first big leap of faith in his music career by jumping ship on his Agriculture major at Murray State and moving to Nashville to study Music Business at MTSU.  
"When I was in college at MTSU, Dad and I built a great project studio in the basement where I recorded local bands and really started cutting my teeth in the studio," Kolb laughs. "I was determined to produce music that sounded as good as what I heard on the radio. And I'm still trying to do that." 
Brian landed an internship at MCA Music during his last semester at MTSU and after graduating, he found his first Music Row home at Famous Music Publishing as the Catalog Manager.  
"I will always be grateful to Pat Finch for not only giving me my first shot in Nashville but for doing anything he could to help me get to the next level," he says. 
Conveniently, Famous Music had a demo studio in the basement, called Bedrock Studio, where Brian spent nearly every night and weekend for the next four years.  
"It was perfect," he says. "I ran the tape room upstairs during the day and worked on songwriter demos the rest of the time. This eventually opened the door to my second big leap of faith, which was quitting my day job and becoming a full time independent recording engineer." 
The next chapter for Brian started with a phone call from his friend
Dave Brainard
.  
"Dave and I had been friends for several years; he would hire me to mix demos and independent records that he was producing and we always worked well together," Kolb recalls.  
But this particular call wasn't about mixing a project. Brainard told Kolb that he was going to open a studio and then asked him to be the chief engineer.  
"The timing was perfect," says Brian. "Dave and I opened
The Mix Dream Studio
right about the time that Famous Music Publishing sold to Sony ATV, which meant Bedrock Studio was no more. It's crazy how this town has always opened the next door for me…right on time!"  
Kolb and Brainard have been business partners for eight years now.  
"It's been a wild ride," says Brian. "It's hard to believe we've reached so many milestones together. It's seriously an honor to be working with a producer like Brainard (Brandy Clark, Ray Scott, Jerrod Niemann) he's so freakin' talented!" 
Kolb has mixed or co-mixed all of Brainard's productions for the past eight years, including the
Grammy-Nominated Brandy Clark album
,
12 Stories
and their first #1 record with Jerrod Niemann's "Lover Lover."  
While in his Music Row studio, it's hard not to notice the fancy bottle of tequila Brian keeps on his desk.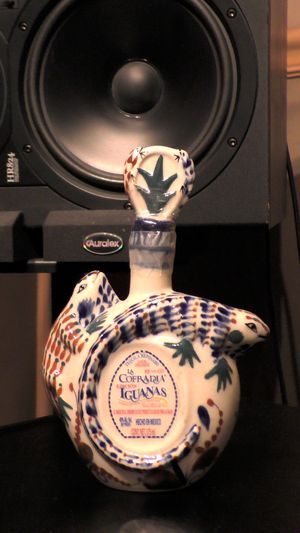 "Yeah, Brainard bought that when he was in Mexico a couple years ago," Brian laughs. "He said we would open it once we won our first Grammy. I'm hopeful that there will be a Grammy sitting in its place on February 9!"  
Kolb has quite the knack for producing records himself. His production credits include Rachel Bradshaw, Sarah Davidson, Clayton Anderson and he is currently working with the amazingly talented
Misty Loggins
.  
"It was really cool co-producing Rachel Bradshaw's record with two-time ACM Producer of the Year, Frank Liddell," says Kolb. "Frank is one of my favorite people in this town. I'm intrigued by the way he approaches production and music in general. There's a lot to learn from the Franks' of the world." 
Running parallel with Brian's career since 2004 is his friendship and working relationship with
Dallas Davidson
, one of Nashville's most revered hit songwriters.  
"When I was helping Dallas unload his U-Haul into my Bellevue apartment, I had no idea my new roommate would be named BMI Writer Of The Year a few years later…not to mention all of Dal's other accomplishments…there are so many!" he says.  
As a part of a natural progression, Dallas and Brian started writing and recording their songs. 
"We were talkin' just today about how I've recorded almost every demo session Dallas has done since he moved to town," says Kolb. "Dallas has helped my career in countless ways throughout the years and I'm so grateful! I'll also always be thankful to our mutual friend, Luke Bryan, who told Dallas I needed a roommate," he jokes. 
Although obtaining a publishing deal was on Kolb's checklist for 2014, he never imagined it would happen the way it did. Kolb had been taking meetings with publishers all over town, just to hear the same word, "No". Much to his surprise, Brian found a "Yes" when he least expected it.  
"Dallas and I got to talking in my studio that morning, I leaned back in my chair in frustration as I was telling him about all my meetings with publishers," Kolb recalls. "That's when Dallas asked me to play him a song, so I grabbed the closest guitar and played him a verse and chorus of a tune I just finished writing. Before I could set the guitar down he offered me a writing deal under his new company Play It Again Music!" 
"There's a life changer!" he adds, leaning back in his chair, this time with a big smile. 
Whether it's writing, producing, or engineering, keep an eye on this guy folks! The stars have been lining up and it looks like Nashville's gonna keep opening big doors for Brian Kolb. 
But, as talented as he is as a writer, producer or engineer Brian's words to live by are as solid as the man himself.  
"Show up, work your butt off, never give up and give it everything you got…everyday!" he says. "And just as important…don't forget to celebrate the victories!"  
To find out more about Brian and follow his career, join his Facebook
fanpage
or follow him on twitter at
@briankolbmusic
.