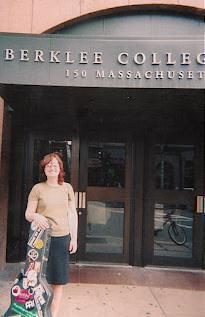 Me at Berklee
Yes, I might be a songwriter focused on writing commercial music, but I did dabble in Jazz during my time at
Berklee College of Music
. Okay, it was less of a dabble and more of a dot--but nonetheless, I did write one Jazz tune that I consider decent.
Just for kicks,
have a listen
.
The tune is dedicated to my friend Jezza, who helped me by performing and recording it in 2004.
And, as a bonus for you theory junkies out there, here's a brief analysis:
The tune is in the key of D Minor, with a 12/8 feel. The bridge (beginning in measure 14) modulates to the key of F Major. I personally hear that modulation in measure 16, where the F7 appears. I added an extra measure here to hang on the "F", resulting in a five measure bridge, for additional emphasis for the key of F. Admittedly, it is a subtle modulation. (Yawn)
I used several modal interchange chords, such as B flat major 7 (a six major 7 chord) as well as A-7 (a five minor chord). I especially like the way the D7 chord "lifts" the tune in measure five, into the section with straight eighths. (Double-yawn)
I foresee this straight eighths section being supported by a rhythm section playing the 12/8 feel. I know it is characteristically uncommon to hear straight eighths in this type of tune, but I like surprises! (me trying to make it fun but you're probably asleep by now).