CMA Fest 2014 is winding down, and I'm thinking about all the fabulous 'firsts' that came from this week! Here are just a few that come to mind...
Thanks to Lee Williams of CMR Nashville (who has been promoting my first two singles to European radio) I had my first CMA Fest appearances. He put on several showcases this week with noteworthy international artists.
It was my first time sharing a stage in the U.S. with two fantastic 'foreign' artists- Sam Hollyman (UK) and Pete Kennedy (Ireland)- check them both out!
For the first time, I met two of my childhood celebrity crushes in person. Matt and Gunner Nelson- yes, the long-haired blond rockers! I was as giddy as a teenager, but hey, at least I didn't trip. :)
I had help with my on-stage outfits- and that was a first! Big shout out to Miss Amanda Sears.
It was the first time I ever shared the stage with a major label act- Saturday's show was with Curb artists American Young!
At band practice, Sam tried my yogurt pie, the first time he'd ever had anything like it. :)
Most importantly, the very first reason I'm out here chasing my dreams is YOU. Friends, family and fans are always first in my book!!!
Catch some
more pictures here
...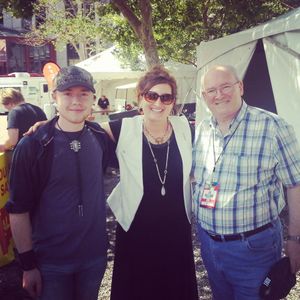 Sam Hollyman (left) and Lee Williams from the UK