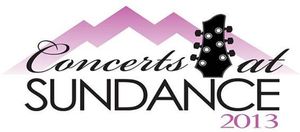 This week marks the beginning of the
Sundance Film Festival
, and I'm gearing up to be part of it this year through "
Concerts at Sundance
" benefiting
Huntsman Cancer Institute
!  Thanks to Stephanie Degraw, founder and owner of Power Media Entertainment (organizers of Concerts at Sundance), here are a few facts about the series…
• Concerts at Sundance supports cancer research through the music of local and international indie artists.
• Over 30 bands and artists will perform during Concerts at Sundance. There are artists traveling from Belgium, Canada, Texas, Tennessee, California and more!
• Even though the series isn't part of Sundance Film Festival, co-locating the event provides increased awareness for fundraising efforts, as well as international stage for indie artists to gain exposure to more fans and entertainment executives.
•
There are concerts every day during the Sundance Film Festival; all shows are open to the public and ticket prices are low- and proceeds benefit a great cause, too!
To purchase tickets or make a donation, click
here
. For information on my show dates and times at Sundance, click
here
.