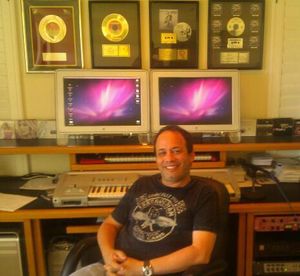 Hit Songwriter and Producer Michael Jay
in his studio in LA
If you're in the pop, R&B and dance music world, chances are you know Michael Jay.  After all, the LA-based producer/songwriter has penned some well-loved hits for artists such as Celine Dion, Eminem, New Kids on The Block and countless other artists- including the chart topping 'Toy Soldiers' for Martika in 1989.
So how did it all start?
Jay moved to the LA area in 1981 for a job in A&R (he had been working at Curtis Mayfield's Curtom Records in Chicago in A&R). When he arrived, the job fell through, a disappointment that ended up sending Jay down a very different path in the industry as a songwriter.
In his early days in LA, he discovered the LA Songwriter's Showcase- a weekly event in Hollywood. The club had a "cassette roulette" each week, where writers would bring songs on a cassette, place them on a wheel and hope that their cassette would be selected to play for industry A&R reps looking for songs at the event.
"The songwriter's showcase had a great reputation, and every week people would come to the showcase to meet each other and try to write songs," Jay recalled. "I met Diane Warren, Allan Rich, David Foster and Jay Graydon through these nights."
Jay went to work for Graydon as his assistant and started meeting the people he was working with. It was the connection through Graydon that Jay got his first real break in LA as a writer.
"David Foster had a song that he needed lyrics for, and I boldly asked to write the lyrics for it," Jay said. "When I started meeting with publishers they were impressed I had written with David. It gave me credibility as a writer and that helped me land my first publishing deal at Famous Music."
It was when he signed his first deal that he realized that he had a gift for songwriting. And that has led to a series of 'pinch me' moments for Jay.
Jay had his first cut on the 1986 Top Gun soundtrack as a newly signed staff writer at Famous Music.* At Famous, the staff writers had first crack at writing for all the movies that Paramount was producing.
"I saw Top Gun as a work in progress with no sound FX, and I thought it was going to be really cheesy," he said. "I mean you see all these planes flying around but you don't hear them, so it's just weird. There was one scene I wrote a song for with Alan Roy Scott called 'Hot Summer Nights' and it ended up in the movie. For one of my first songs released to be part of a film that became one of the most successful movies and biggest-selling soundtrack albums of all time, I thought well, this is going to be an easy career."
He started getting cuts with other artists such as Sheena Easton and Stephanie Mills, but he wasn't getting the opportunity to produce. His manager, Alan Melina, suggested he discover and develop a new talent to prove himself as a producer.
"My sister was working on the TV show Kids Incorporated at the time and she invited me to come by and meet some of the young singers," Jay said.  "It was on that set that I met Martika for the first time. At sixteen, she was a great pop singer and had the 'look.' I talked with her mom about working with her on a studio project – and they were interested."
Jay spent the next two years developing, writing with Martika and producing her self-titled debut record. After meeting with several labels, who ended up in a bidding war to sign her, Martika signed with Columbia Records (which later became part of Sony Music) to release the record and break her as an artist.
"There was an A&R guy at the label named Ron Oberman who wanted to release 'Toy Soldiers' as a single, but I wasn't initially convinced," he said. "But the promotion department tested it in a few markets without naming the song or the singer and it blew up the phones. It sounded different than the other pop artists at the time like Tiffany, Paula Abdul and Debbie Gibson."
Jay found out about the number one at a carwash in Encino. The attendant was about to take his car in and the phone started to ring. It was Ron Oberman calling to tell him that the song had beat Madonna's 'Express Yourself' and that it would be number one on the Billboard Hot 100 chart the next week.
"Toy Soldiers was a song about peer pressure and addiction. Martika related it to drugs because someone close to her was struggling with that at the time," he said. "I give full credit to the label for recognizing a five minute pop song with a children's choir as the breakout single it became."
Jay got the idea for the children's choir in the song because he had seen the movie "The Lost Boys," and in the score there was a cool children's choir over a rock track. Martika liked the idea and some of her friends from Kids Inc., including a 16-year-old Fergie, sang in the choir.
Working with Martika led to other producing opportunities with the then red-hot New Kids on the Block. Jay was tapped by Tommy Mottola, the president of Sony, to produce Seiko Matsuda, a popular Japanese pop star, on a song with NKOTB, "The Right Combination."
Jay has also worked as a producer with Mandy Moore (he described her as a very sweet teenager) and Olympian Nancy Kerrigan who was capitalizing on her popularity by releasing a pop song after her silver medal win.
There were even more 'pinch me' moments that Michael shared.
"Working with Celine Dion has been a 'pinch me' moment," he said. "She is so focused on her career and music, she's very charming and sweet. She just lives and breathes music and when she sings it's effortless, absolute perfection."
In 2003, Martika's mom called him because Eminem was looking for the masters to 'Toy Soldiers', a real surprise for Jay.
"Eminem and his producers didn't want to just sample the song, they wanted to lift the choir off the original tapes," Jay said. "I found the tapes in my garage, had them baked at Westlake audio and shipped them to the studio where the audio was imported into Pro Tools and time stretched to make it faster."
Jay ended up with producer points on the record because of the use of the original tapes.
So what's next for Michael Jay?
"I'm working with Soda Pop/Island Def Jam artist Kristinia DeBarge and Colette Carr on Interscope," he said. "Colette is a cool artist- has a half-rap, half-singing style that's youthful and rebellious. She's a really good songwriter too. I still get excited about great music and traveling, and I like the dance music coming out of Europe."
For more information about Michael, follow him on Facebook.

* Jay was with Famous Music for seven years and has also worked for various other publishers (including Warner/Chappell) before signing with his current publisher, Universal Music.