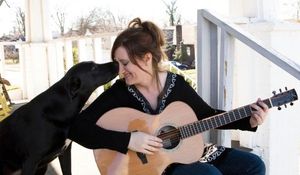 Jessi Lu and me
Music and animals have always been part of my life. 
My dad used to put me on the edge of the watering trough at the farm as a kid to wait for him while he fed the black and white cows. I'd swish my feet around in the water, squishing algae between my toes, and sing songs while the cows gathered around and drank. Some might say they were my first listening audience! 
We always had a family member with four legs in the house (our dog) and I would sing and play piano for them as well. It was the beginning of the journey for me- exploring music with a furry best friend by my side. 
By the time I moved to Nashville in the fall of 2005, I had music in me and a guitar in tow. But, there was something missing and I knew it. Two days after coming to Nashville, I found my sweet fur kid Jessi Lu at Animal Control. 
Jessi came with me everywhere a dog could go---writing appointments, the studio and band practice (where she sat in front of the kick drum). She was quiet and really just love being around people and music. She toured with me across the country and probably was a co-writer on about 100 songs. I'm sure I wouldn't have made it 14 ½ years in without her.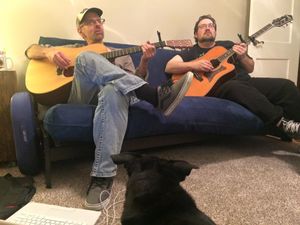 Jessi Co-Writing
Now Thelma is my fur kid and sidekick. She also loves music and every night I sing her a song to put her to bed. When I play guitar and sing, she wants to participate---and she grabs a toy and squeaks along. 
No matter what life brings next I hope I always have my two loves by my side.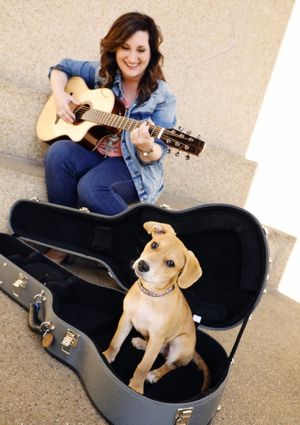 Thelma Lu Gets into Music (photo by April Hollingsworth)