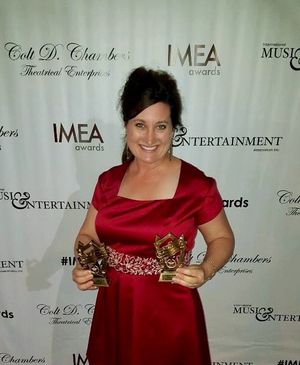 At the
International Music and Entertainment Association
(IMEA) awards on October 24, 2015, Nashville-based artist and songwriter Shantell Ogden won two top honors:
Songwriter of the Year
and
Americana Song of the Year
for "Ghosts in the Field." The
IMEA Awards
are presented annually to honor and recognize the best in independent music and entertainment, internationally.
"It is a true honor to be recognized at the IMEA awards this year!" said Shantell. "As an artist and songwriter, it means so much to know that the music you are creating is connecting with people. I thank God for music and my family and friends for fueling me with love and support every day in my career. I would also like to thank the IMEA Association, it's voting committees, members and the fans for all of their support."
"
Ghosts is the Field
" is the title track from Shantell's latest acclaimed record, co-written with long-time friend and collaborator Bill DiLuigi. The song was written about her family's third generation dairy farm, and about feeling a connection to personal roots through the land, and produced by John Willis at
Willisoundz
in Nashville.
During the awards event, Ogden was also recognized for "
Me Before You
" by Marcum Stewart which won
Country Song of the Year.
The song was written by Stewart, Ogden and DiLuigi, and it became the writing trio's
first Number #1
on the European HotDisc chart earlier in 2015.
"I whooped and hollered for Marcum when it was announced," Shantell grins. "It was so great to see Marcum on stage accepting the award for 
Country Song of the Year
!"
For more information about the IMEA awards,
click here
.