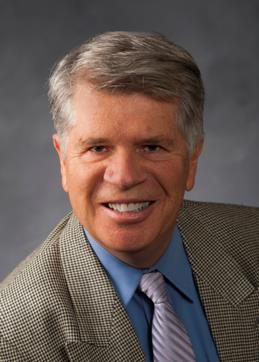 Merrill Jenson
Merrill Jenson has been called the "John Williams" of Utah, but this sought-after composer is humble about his credentials, and candid about what makes him tick.
"I grew up in Richfield, Utah and there was always music in my home," said Merrill. "Mom was an opera singer and a piano teacher from Norway and Dad played trumpet. I started playing the trumpet at an early age, and I used to practice it when I was waiting on the machines to milk the cows on our family farm."
Merrill's first experiences with composing were also on the farm.
"I used to compose in my head while I was driving the tractor up and down the rows plowing the fields to pass the time," he recalled. "I didn't realize until later on that this was quite unique."
The hours of practicing the trumpet paid off when Merrill was offered a music scholarship to BYU. It was during this time that he had his first experiences as a touring musician.
"I went on a Latter Day Saint (LDS) mission to Norway, and for six months played with a musical group called the Mormonaires in concert and recital halls," said Merrill. "We promoted the church and played a mix of hymns, Tijuana Brass and classical music."
After his mission, Merrill decided to become a mixing engineer. He started by recording concerts and recitals, and through the BYU multi-media department met John Williams' engineer, John Neal.
"A few months later I took a demo tape of mine to LA's 21st Century Fox Studios," said Merrill. "I had recorded and mixed the music, as well as composed it. To my surprise, John Neal loved it and said my 'ears were on straight.' He then asked who had composed the music. When I admitted I had, he said I had talent as a composer and that I should pursue that instead. It was the first time anyone validated my work and he was so dramatic about it that the ground shook when he said it."
Merrill's work had its own flavor and uniqueness and John took an immediate interest in helping him develop as a composer.
"John Neal introduced me to people who introduced me to film scoring," said Merrill. "At the time I was in my mid 20s."
Not long after, Merrill met Kieth Merrill, a prominent LDS filmmaker, after he sent a demo reel of his work. Kieth asked Merrill to write the score for a film on the American Indian called "Great American Indian." Merrill contacted the London National Philharmonic Orchestra about recording the project.
"When I hired the orchestra, I had never conducted an orchestra." said Merrill. "I had to send the money first and then I had six weeks to write 50 minutes of good music. It was intense. I learned how to conduct by practicing on my own music."
After the recording process, Merrill tapped John Neal to mix it, an emotional experience for John.
"Out of all the young people he had tried to mentor, it turns out I was the only one that ever took my music back for John to mix." said Merrill. "It meant a lot to him and it was a great experience for both of us to work together on the project."
Merrill had an interesting reaction when hearing his first master mix.
"What I found out when I listened to the mix was scary," he said. "I hated my music and kept thinking that it wasn't that good. It took me a long time to realize that my reaction to the mix was a result of exhaustion from the intense composing schedule. I was also hearing some room for improvement in the composition and realized that, to my ears, it was never finished. With experience I've learned to live with that."
Merrill's reputation for delivering great music and list of credits has continued to grow over the years. To date, he has composed and arranged over thirty films including
Emma Smith: My Story
,
Joseph Smith: Prophet of the Restoration
,
Legacy
and
Harry's War
. He is currently working on a documentary on women and their quest for equality in the workforce while rearing a family.
Click here
for a list of Merrill's credits.
"I have learned that writing in and of itself isn't the fulfillment for me," said Merrill. "It's not that I don't have joy and love the process and the energy of it, but my key to this is that I'm a vessel to bring joy and fulfillment through music to others."
Merrill's perspective has helped keep him centered and open as a composer.
"When you're creating a sound that's never been heard before recording with an orchestra it's an incredible experience. I've seen people become narcissistic in these situations," he said. "But, in those moments, I remember that I'm just a farm boy from Richfield. For me, it's been important to maintain that perspective in order to continue to be open to God-given inspiration as a composer."