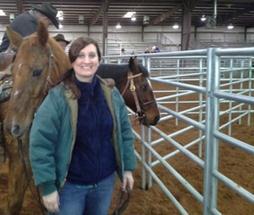 Me and Peanut   

Getting back into the saddle again was fun as last weekend I participated in a Team Sorting (
aka Ranch Sorting
) event in Southern Utah. To describe it briefly, there are 11 head of cattle numbered 0-9 (one without a number) in a pen. In pairs of two, you are given a random starting number (say 4), then you have to move the cattle sequentially from one pen to another as fast as you can without getting the cattle out of order (4, 5, 6, 7, etc.). You ride with lots of different people in different classes and each rider has a ranking based on their winnings.
This is where the "western" came in for me.
I was riding a young horse (we call them green) and it was his first sorting event. Well, Rusty did okay the first couple of times, but since it's a timed event the cattle can get moving pretty fast. We had cows coming at us from each direction and he just panicked. I found myself looking at the arena ceiling lights as he reared up on his two back legs!  So, I just about went off. Yikes.
So, I went to plan B which was to ride dad's horse Peanut. 
We were at the end of a pretty good ride (getting the last couple of cows through the gate) and I broke one of my reins. It was like trying to steer with half a steering wheel! Thankfully, Peanut is an older horse, and the run was over so we were not in too much trouble.
In spite of it all, I ended up placing in one of the classes; proof I still have a little bit of 'Cowgirl Up' running through my veins!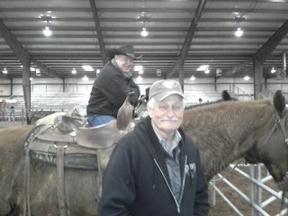 Dad and Peanut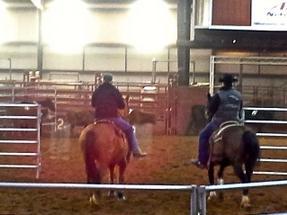 Dad and Rick Nelson (former Survivor Contestant) getting ready to sort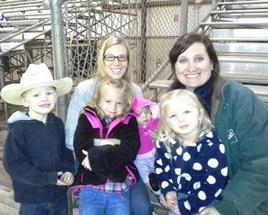 A friend of mine and her family stopped by too! Cute kids, huh?