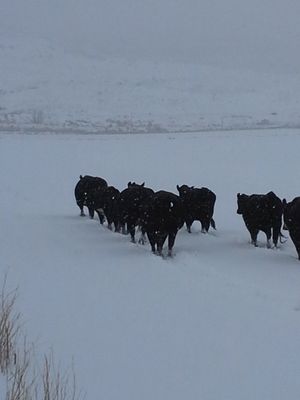 If you know me well, you know I was raised on a third generation dairy farm in Richfield, Utah. And, you may have also heard me say that growing up with all that manure and hard work prepared me for the music industry. ;)
Though we've since sold the dairy cows, we now have beef cattle which are usually a lot less trouble. Well, that is until the snow flies and its snowed about 16 inches in the last week. Today dad decided we needed to move the cows from the field back to the corral so we could feed them hay; the snow was too deep for them to feed in the field.
The ride started out okay, and dad threw some hay out by the gates we needed to drive them through to coax them along. It worked like a charm. When we got up to the corral we realized we were missing four of Rick Nelson's cows (Rick is a family friend and former Survivor contestant) so we went back for them. Man, it was cold! (See me freezing along with some other
photos here
).
We got the cattle back to the corral, rode back to the truck, loaded the horses and tried to drive off. I say
tried
because the trailer and truck jack-knifed off the road and slid into the barbed wire fence. It was time for phase two: Truck Rescue.
So, we fired it up.
I drove dad back to the barn to get the tractor, then followed him out to the pasture. He pulled at the center, then at the front and then I got in and drove while he pulled at the front end directly. It all ended up okay- thank goodness- and the Ford made it through without even a scratch!
I guess I'd say it's just all in a day back home...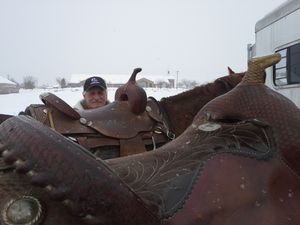 Dad Saddling Up