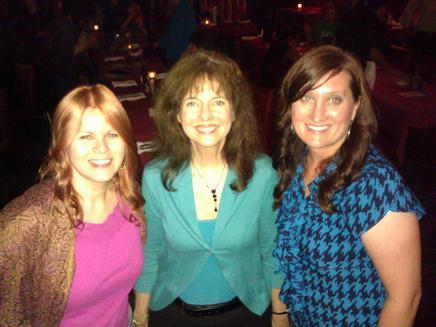 LA Women in Music Coordinator Phoebe Carter, host Harriet Schock and me at the
LAWiM Show at M Bar in Hollywood.
Now that was a trip!!! Here's a brief look at what "went down" in LA last week…
Saturday-
I played a private event for some OC singles- what a blast!
Monday-
Co- wrote with
Michael Jay
, hit songwriter and producer in his valley studio.  We cooked up a sizzling a la Katy Perry hit to some killer dance tracks.  Hope to have it ready to share in a few weeks- stay tuned!
Monday night I played a show at the famous
Kulak's Woodshed
- a downright groovy place in North Hollywood.  Quilts on the ceiling, lots of posters on the walls, live birds and a bed (for real) right in the center of the place for lounging.
Tuesday-
I had the opportunity to interview
Wendy Levy
, a prominent LA music supervisor, for Berklee Blogs.  She had some amazing insights and I'm so excited for you to read all about her when it's published!
Tuesday night I sat in-the-round with platinum-selling songwriter
Kevin Fisher
,
Henry O'Neill
 and
Stefani Scovolo
 at
Molly Malone's
.  What a great round!  Thanks to Dean at
Strongwriter
, we'll be able to share some video footage of the event down the road!
Wednesday-
I met with the talented and fierce women at
5 Alarm Music
- a top production music company in Pasadena; I will also be blogging about them for Berklee Blogs.  I was also able to take a tour of
Firehouse Recording Studios
- and it was impressive!
Wednesday night I had the opportunity to play at the
LA Women in Music Showcase
 at
M Bar
 in Hollywood.  Talk about swanky!  Red velvet walls anyone?
Thursday-
I took a trip out to Sherman Oaks to meet with Justine and Peter at the Berklee alumni offices.  We had a great visit about all things Berklee and the music biz in LA and Nashville.
Thursday night I took the stage at
House of Blues in Hollywood
- a great sounding room with wonderful people.
Friday-

I had lunch with a friend at a German sausage place in Venice (in retrospect probably not the best digestive choice).  I then played the
Nette Radio
 show hosted by Annette Conlon at
The Talking Stick
 to benefit the
Pepper Foundation
.
Saturday-
A beachside co-write with the spunky and poetic Courtney Heins during the day was a treat!  And I got WAY sunburned- not as much of a treat. :)
Saturday night I met up with some friends from Boston at my last show at
UnUrban Coffee
 in Santa Monica.  I recommend the chicken curry sandwich!
To see more of what happened during the tour, visit the photo album
here
.