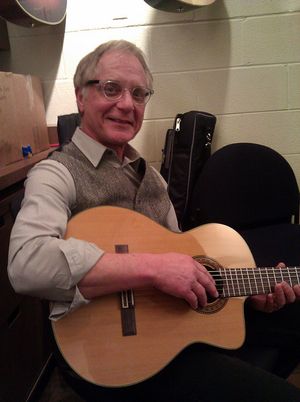 Michael Noble Backstage at the Opry
Michael Noble is a hit songwriter, session guitar player and member of the Grand Ole Opry band. His story is a fascinating and weaves in names like Roy Orbison, Kenny Rogers, Steve Warnier and many more. Take a listen to how he got to Nashville, ended up on tour with Roy and worked his way into the songwriting community in Nashville in Part 1 of my interview with him.
Michael Noble Interview- Part 1
I've always been a big Kenny Rogers fan (who isn't!) and one of my favorite songs Kenny recorded in 1986 was called "Twenty Years Ago." The song had four writers, which was unusual for a country song back in those days. Michael tells the story of how a six pack helped him get into this song in this clip.
Michael Noble Interview- Part 2
Michael has continued to pursue learning- and has been willing to work hard at every aspect of music. When he was a professional guitar session player in the mid-nineties, he became interested in Jazz because he was so moved the first time he heard a Johnny Smith record.
"I had been playing the guitar since I was nine years old, and I no idea how he was making those sounds with the guitar," Noble recalls. "I was ready to take on a new challenge in music." 
He found a Jazz guitar teacher in town who really knew Jazz, Mel Deal. "I didn't tell him I was a professional guitar player for a couple weeks because I didn't know how to go from country, pop, rock to playing like people like Jim Hall or others," he says.
Not only did Michael learn Jazz, he assembled a group of top Nashville session players who also wanted to learn for a weekly jam session.
"We called ourselves the The Bloody Knees because we'd play Jazz, we'd fall down, we'd get up, we'd play Jazz, we'd fall down," he jokes. "We learned a lot and we learned together."
Michael made a point of saying that he wasn't a person that was really gifted as a songwriter that could just churn out a hit- he had to learn the craft. He also speaks frankly about taking advice, even if it feels personal. This segment perfectly discribes how to become a hit songwriter.
Michael Noble Interview- Part 3