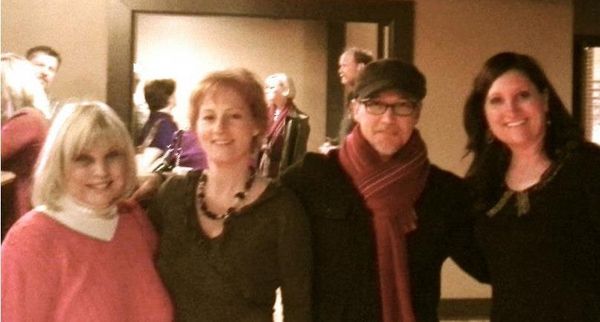 Jan, Rebecca, Greg and Me after Opelika Unplugged

Last week I had the opportunity to play
Opelika Unplugged
with hit songwriter
Jan Buckingham
. We had a great time swapping stories and songs (see some of the photos
here
) in this thriving music community near Auburn, Alabama.
To find out more about Opelika Unplugged, I asked one of the founders. Rebecca Walker-Jones, how the idea got started...
"Opelika Unplugged was conceived over a very large glass of red wine," said Rebecca. "I wanted somewhere to play my original songs and there was nowhere locally to do so. Greg Rogers, one of my co-writers and an ex- drummer friend of mine, suggested we start our own venue. I then met with Lisa Ditchcoff, the owner of The Event Center Downtown because I had heard she had just finished the upstairs of the old Coca Cola factory and I thought that would be a cool place to hold our show. We are coming up to our one year and in the past year we have heard some fantastic songs!"
The series is becoming a popular tour stop for many musicians in the Southeast, and there are now two other 'unplugged' offshoot events in Columbus and Newnan, Georigia.
"What never ceases to amaze me is the quality of the talent we have in our shows," said Rebecca. "I wanted this to be a songwriter platform for the songwriters; for that reason songwriters get in free while everyone else pays a $5 cover. We are purely non-profit and all the door and tip monies are split between the six songwriters that we have the first Friday of every month."
There is only one rule at every Unplugged venue: no cover tunes. Every genre of music is accepted and encouraged.
"I believe everyone has a good song in them," she said. "Even if you're not particularly musical everyone has a story to tell. If you love good stories you'll love coming to Opelika Unplugged!
Follow the
Facebook group
for more information on auditioning and attending the event.