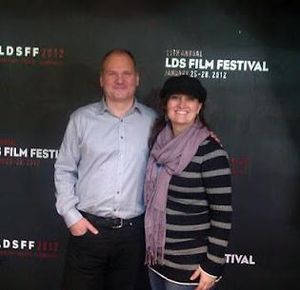 Last week I attended the
11th Annual LDS Film Festival
in Orem, Utah. The festival was founded by Austrian filmmaker
Christian Vuissa
(
pictured with me above
) to help independent filmmakers network and showcase their work. According to Christian, it was really surprising to see the growth in the festival in the first few years. But now, as the festival has grown to attendance of an average of 6,000 attendees and seven feature films annually, it's time to "plan the vision for the future."
A vibrant filmmaker, Christian is also preparing to produce his next project- the story behind how the hymn Silent Night was written. The film will be called "Silent Night" and will air later this year on local networks. (I really enjoyed his film called "The Letter Writer" shown at this year's festival as well, though it's not quite available for purchase yet).
While many of the films reflected Mormon history and culture, filmmakers Amy and Shawn Kenney are aiming to share Christian values with a broader market through film. "
Stand Strong
" is their first film- shot in an astounding 12 days- about a family learning spiritual priorities through financial hardships.
The film has already been recognized among leading Christian films; it was just accepted into the 2012 San Antonio Independent Christian Film Festival. I even had a chance to catch up with actor
Chris Steele
(
pictured with me below
) who gives a compelling and honest performance as the film's leading man, Matt Webster.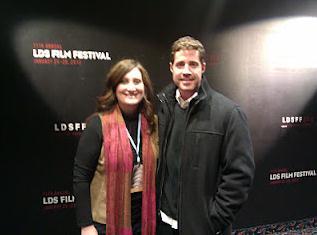 It was a great opportunity for me to learn more about the role of music in film, directing and producing independent films and network with filmmakers. In short, I give the experience TWO THUMBS UP!