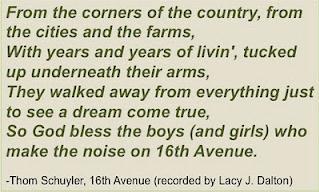 Everybody who comes to Nashville has one thing in common...we all have a dream of making it somewhere. But, as hall-of-fame songwriter
Roger Murrah
explained to me, "The dream only gets you so far, then the work begins." He was right...
After six years here, there are a few things that I've learned from Nashville. And because I'm a writer and my job is to be honest about what I see, I wanted to share a little about my experience with you...
1.
This town is full of talent
- on any given night in venues all over town you'll hear artists and writers who are amazingly gifted, and songs that really are hits that no one has ever heard (yet). Sometimes it's inspiring and sometimes it's depressing.
2.
Expect a long haul
- while there are real-life fairy tales about magical doors that open for some (i.e. a record deal in three months) most artists and writers work for years to be recognized for their craft. Friends of mine like
Bill DiLuigi
and
Donna DeSopo
come to mind.
3.
There's a system in place
- hit songwriter
Tony Martin
put it this way, "There's the group you rise with and the group you're invited to." This reality is played out in many ways and we could grab a coffee sometime to talk about it.
4.
Rejection is part of the deal
- again, this is something we could talk about over coffee.
5.
You never know who you'll meet and what that might lead to
- I met the legendary songwriter
Thom Schuyler
at the dog park. My dog Jessi Lu became friends with his dog Emmy Lou and Thom and I became friends through that. We even co-wrote one of my favorite songs off my new album "
I Wasn't Done, Lovin' You Yet
." My first cut (and country radio single) came because I met the drummer of Acklen Park at my day job in the hallway.
6.
You have to know you have a gift
- I've described music as a calling- something that God called me to do. It's a commitment I've made and God has confirmed my path again and again. I am blessed to have this perspective and assurance in the journey.
Rhett Akins
said it this way, "It's just a light you have."
There's a lot more I could share here, but for the moment I'll end with what has become my motto for this journey: "Get up early, stay late and chase your dreams."
What do you think about Nashville?