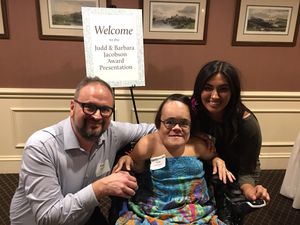 L to R: Craig, Green Room Artist Gaelynn Lea, and Alicia Lees, Green Room Publicist
During the 2017 CD Baby DIY Music Conference, one of the most informative sessions was with Craig Grossman, Founder/Agent of Green Room Music Source. Green Room is a management, booking and consulting company that partners with artists to advance their careers and reach their potential.
Craig shared a few 'behind the scenes' insights on booking in the interview below.
In what ways does touring help an artist grow their career? 
It's all about the exposure for everything an artist does and the easiest and most immediately accessible way to gain exposure is through touring. Of course touring isn't just about playing shows, it's about the opportunity to connect to a potential audience. Beyond the performance, artists make that connection by selling merch, getting folks on the mailing list and spending face to face time with new and existing fans.
What advice do you have if you are booking yourself as an indie artist—including any helpful resources? 
Understand it's all about a dedication of your time and persistence. That's sometimes the only way to get what you're asking for. The best resource out there is Indie on the Move (www.indieonthemove.com). While it's no longer a free service, it is well worth the small amount you have to pay. We use it all the time at our agency. There are many venue contacts and ratings on venues reputations. And it covers nearly every market out there in the states.   
What are your thoughts on opening for larger acts, and even buy-ons for tours? 
Opening for larger acts is always a great idea, especially when the genres match well enough for you to potentially gain some of the headliner's audience. I'm not a fan of buy-ons to tours because I think that often results in coming off as desperate and typically doesn't get an artist new fans. It's important to maintain dignity in the music business because it is a relatively small business and when word gets around that you're doing buy-ons, that can have an effect on your reputation.  It's also a bad practice because it doesn't offer an even playing field. Anyone can buy onto something if they have the resources to do so. You're far better off doing the hard work of networking with larger artists and getting them on your side so you can potentially get a proper offer to play on their tours.  
What do you think the future of touring will bring for indie artists? 
That's difficult to say. I've been doing this for fifteen years and really, specifically to touring itself, little has changed. Artists have to get out there more to make up for loss of income with little to no album sales. This has forced more competition since more artists are touring more frequently and therefore you tend to have to book further ahead. Also, it's creating more creative venue options, i.e. house concerts and quirkier spaces for live music.
Learn more about Green Room and follow their artists by clicking here.