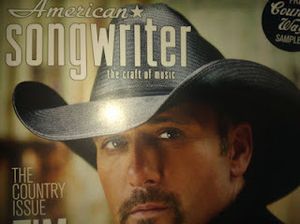 Thanks to
American Songwriter
magazine for publishing the story behind "Great American Song" in their May/June 2011 issue!
Here's the write-up:
GREAT AMERICAN SONGWRITERS
When Marcum Stewart (of country duo
Acklen Park
) got together with Bill DiLuigi and I to write in July 2011, we had a clear mission. Marcum wanted a feel-good, sing-along anthem for Acklen Park fans. He brought a killer melody and groove idea to the session so we went in search of a hook.
While we were brainstorming, I picked up the latest edition of American Songwriter magazine from my coffee table. I looked at the cover and blurted out "The Great American Song." We all knew that was it - and a few hours later the anthem was finished. Thanks to the fans and country radio, the song made its debut on the Music Row breakout chart March 16. And, it all started with American Songwriter!
Shantell Ogden
Nashville, Tennessee