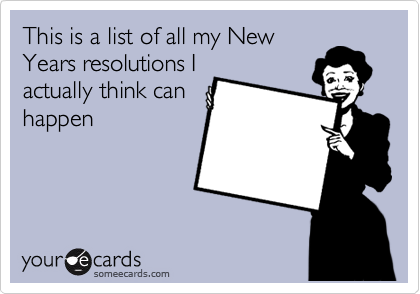 A few years ago I saw a bumper sticker that said "Increased Happiness by Lowered Expectations."
In my opinion, this little gem of wisdom can be applied to so many areas of life--including our independent music careers. Now, I'm not saying we shouldn't aim high and reach for the stars, but it's also positive to achieve and celebrate small wins. Let's face it, we all have limited time, energy and resources, and what we set out to do should actually be, well
doable
. So, in keeping with the idea that 1) goals are good and 2) goals should be something we can reach, here are
5 Resolutions Singer/Songwriters Can Stick To
:
1- Creatively write every day
-  set a timer, pick a random object, and free write on it for a few minutes to keep your writing skills sharp. These exercises can generate a lot of good ideas you can use later in writing sessions. In the book
The Artist's Way
, it talks about starting out the day with 'morning pages'- stream of conscious writing when you first wake up as another way to get your creative brain in gear. Writers write...simple as that!
2- Pick up your instrument every day
(if you don't already)- while you may not be able to practice for three hours every day, at least play a little and spend some time noodling. You never know what you might come up with in these sessions---and what will turn into a future song. It's also a great idea to learn cover songs, and experiment with new arrangements of old standards.
3- Interact on social media every day
- even if you spend a few minutes here and there throughout the day, make sure to keep your interaction consistent. I use Hootsuite to schedule out tweets, and the Facebook scheduler to pre-schedule posts. Especially if you're going to be extra busy one week, it's great to pre-schedule the content then just 'check in' to respond to comments. It's important to vary the content...don't post the same thing on every social media account on the same day.
4- Make one contact a day
- every day, reach out to one booking agent, one music supervisor, one music reviewer, one new co-writer or one artist who is looking for songs. Even with the 'one a day' rule, you'll be surprised at what you can accomplish in a year!
5- Be a learner/improver
- pick an area you feel like you are weak in as an artist and take a class or a workshop to improve in that area. A few years ago, I felt like my live shows needed some help, so I went to a performance coach a few times. It made a world of difference to me! If you struggle with pitch, get a vocal coach. If you aren't great at social media or emailing your fans, take an online course in it. If you need to learn more about music publishing, read a book on the subject. There are also great songwriter camps with professional writers you can attend to learn writing techniques from the best.
I'd love to hear your ideas about what you're thinking of doing this year to build your music career! Please share in the comments below.