When I was a pimply teenager on the farm in Utah, I had a big crush on a 'big hair' duo named Nelson. They broke onto the charts with mega hits in the early 90's like 
After the Rain
and
I Can't Live (Without Your Love and Affection)
. I used to watch their videos over and over on MTV and wait for them to come onto the radio so I could sing along.
Fast forward more than 20 years later…and by the stars aligning somehow I ended up playing on the same stage as Gunner and Matt during CMA Fest a few acts before them.
So, I basically totally rushed them backstage, about as awkwardly as I would have if I were still a teenager. Gunner and I discussed his lemon chicken recipie from
a recent TV spot
, and we caught up on where they were traveling to next. One of them said they were looking forward to hearing me, and since I had already played I gave them a CD (this was a totally novice move for anyone in the music industry, by the way, but again, I was in my teenage brain people).
They may have cut their hair, but they are still very much rockstars to me…here are a few pics from backstage...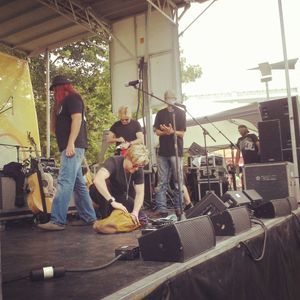 Setting up and plugging in...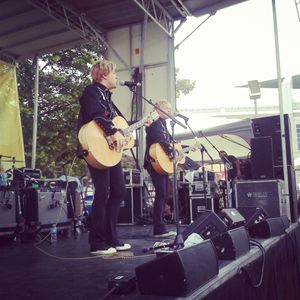 Rocking!