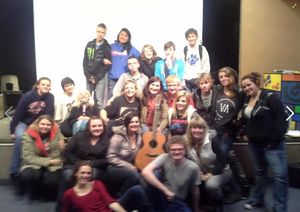 Richfield High School students and me
There's nothing like Christmas to bring out a little creativity! This week I gave a a class on creativity for local high school students and I shared these these tips…
Find your Authenticity
– the only thing that makes you different than any other writer/artist/actor is how you see the world. So get real, honest and personal about what you see.
Create with a Purpose
– think about what emotion, insight or message you are sharing and what you want people to 'walk away with'. Aim for this reaction when you create.
Develop your Instincts
– ask yourself if anything doesn't belong or resonate; or if there is a better way to say what you want to.
Walk with the Masters
– dissect the work of others, find out why it 'gets you' and develop your art and craft using the same tools.