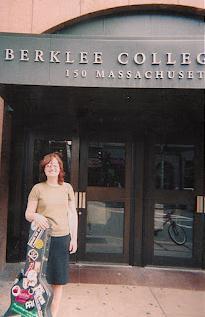 So, I don't mind admitting that I'm the type of person who saves 'stuff'. Call it sentimental, call it paranoia, call it a leftover gene from my Grandma Jenson who grew up in the Great Depression...but it's true.
Recently, I was cleaning out some files on my computer and I came across something that I thought I'd share with you. It was part of my Berklee admissions essay and it goes a little something like this:
"When I was a child, I would go horseback riding with my father and grandfather in the rugged, sagebrush covered mountains of Utah. We would ride in silence until my grandfather would break into song, usually singing his favorite old western tune, "Strawberry Roan." Slightly obligated and secretly delighted, my father and I would join always join him. The three of us would sing past the top of the birch trees.
I remember even then loving music. Loving the pictures it painted in my mind. Loving the way you could learn something from the lyrics, something that might stick with you for years. And, especially loving the way it connected my family across generations.
It was years later when I discovered I had been given a gift to be a songwriter.
So, that was written in 2003, and I entered school that fall, finishing in 2005. I like looking back and being reminded that I have loved music for a long, long time.
Check out some more photos with Berklee friends
here
.